About the Project
---
PROJECT NAME: SOCIETIES AND DISEASES: RESPONSES TO HEALTH CRISES IN MODERN AND CONTEMPORARY HISTORY
PROJECT HOLDER: FACULTY OF HUMANITIES AND SOCIAL SCIENCES OSIJEK
PROJECT MANAGER: LUKA PEJIĆ, PhD
PROJECT VALUE: 20.000,00 HRK
SOURCE OF FUNDING: FACULTY OF HUMANITIES AND SOCIAL SCIENCES, JOSIP JURAJ STROSSMAYER UNIVERSITY OF OSIJEK
PROJECT DURATION: SEPTEMBER 1, 2022 – AUGUST 31, 2023 (12 MONTHS)
---
The subject of the project's research is the impact of health crises (plague, cholera, the Spanish flu, COVID-19, etc.) in Croatia and the world on social relations and the emergence of new policies. Project collaborators intend to, in several stages, explain the impact of pandemics and certain diseases on the redefinition of social relations and the shaping of political responses to crisis situations. In other words, the project does not intend to problematize the epidemiological causes of individual health crises, but rather brings the analysis of multiple reactions to the mentioned circumstances to the fore.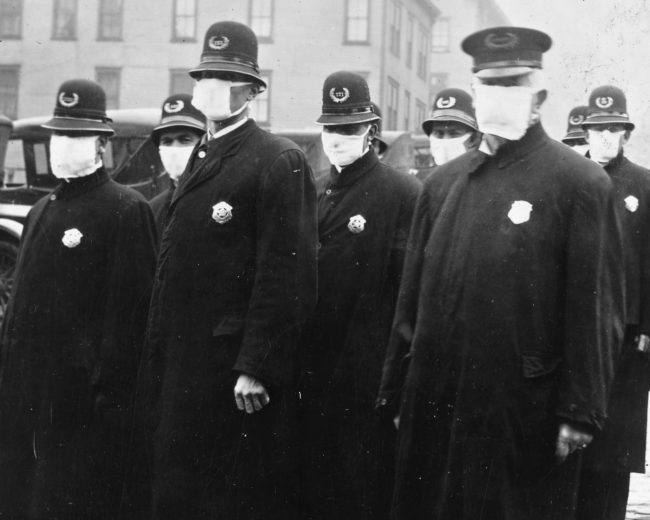 Seattle policemen wearing cloth masks during the Spanish flu pandemic, December 1918. Source: Wikimedia Commons
The collaborators will analyze the impact of selected crises on the formation of new policies and the authorities' efforts in effectively addressing current health problems. Different forms of resistance to the mentioned new policies and obvious social changes will also be discussed. Finally, the collaborators will be interested in whether the considered phenomena, recorded in Croatia, were similar to the phenomena present in other countries.
The overall research will consist of three components: preparatory (identification of specific research subjects, coordination of the project team's work), research (visits to archival, library and museum institutions, collection and analysis of secondary literature, writing papers) and demonstration-evaluation (presentation of the results of completed research through public lectures, a scientific conference, an accompanying publication and a website).